Category: Rcj World News
Published: Monday, 02 January 2017 13:18
Written by REC Director
Hits: 632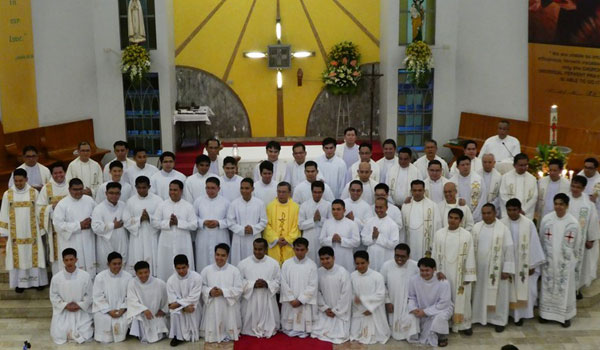 06 January 2017, Philippines : At the Holy Spirit Chapel of the Fr. Di Francia Center of Studies, Fr. Herman Abcede, the Provincial Superior, led the concelebrated Eucharistic liturgy, where he accepted the renewal of vows of 27 religious students and the perpetual profession of six others - Bro. Jobert Belgica, Bro. Jorge Casaberde, Bro. Giovanni Gamaya, Bro. Lorgin Hernaez, Bro. Al John Provido and Bro. Bryan Tutas. In his homily, Fr. Abcede exhorted everyone - and above all else, the religious - to be "builders of communities" being "agents of good relationships", which in turn has five (5) key elements, according to him: listening well, loving well, serving well, forgiving well, and praying well. This celebration, which highlighted the Feast Day of St. Hannibal Mary Di Francia, on June 1, 2017, culminated with a simple dinner with families, friends and benefactors - who all share with the Family of the Rogate of the singular mission of praying for more vocations in the Lord's vineyard.