Category: Ecclesiastical News
Published: Saturday, 03 June 2017 01:19
Written by REC Director
Hits: 652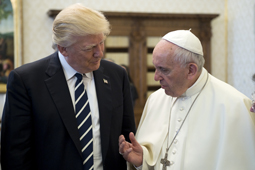 Vatican, 24 May 2017: On Wednesday morning, 24 May, Mr Donald Trump, President of the United States of America, was received in Audience by Pope Francis. He subsequently met with Cardinal Secretary of State Pietro Parolin, accompanied by Msgr Paul Richard Gallagher, Secretary for Relations with States.During the cordial discussions, satisfaction was expressed for the good existing bilateral relations between the Holy See and the USA, as well as the joint commitment in favour of life, freedom of worship and conscience. It was hoped that there may be serene collaboration between the State and the Catholic Church in the USA, engaged in service to people in the fields of healthcare, education and assistance to immigrants. Views were then exchanged on various themes relating to international affairs and the promotion of peace in the world through political negotiation and interreligious dialogue, with particular reference to the situation in the Middle East and the protection of Christian communities.