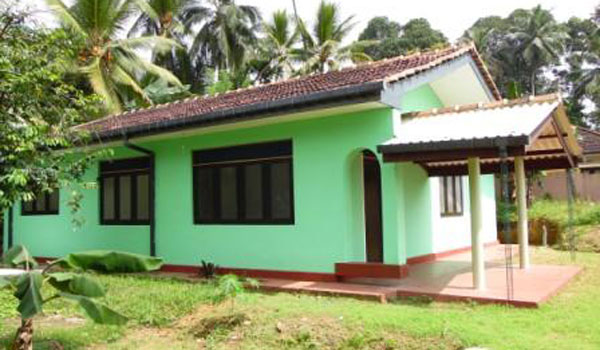 The History of Rogationists presence in Srilanka
Initial Steps- Fr. Luigi Toffanin sends Frs Shinto Panachikattu and Sijo Maliyekkal to explore the possibility of our presence in Srilanka. "Go into the all world and preach the Gospel to the whole creation (Mk: 16,15)" Following the command of our Lord Jesus, our late Provincial Fr. Luigi Toffanin intensely desired to spread the seeds of Rogate to the 'pearl of Indian Ocean', Srilanka. As a result in 2012, he assigned Frs. Shinto Panachikkattu and Sijo Maliyekkal to study and explore various mission possibilities. They spent almost a month in Srilanka, went around the island, met many priests and visited various dioceses and submitted the report to Fr. Luigi. He also visited Lanka and collected some information from various bishops. However, the desire to start our presence there was not immediately realized. Fr. Luigi but, did not totally abandon the project, rather he continued to seek other possibilities and waited for appropriate time.
Fr. Varghese studies the possibility of taking over Peter Bachmann Learning Disability Center at Chilaw Diocese. Fr. Luigi came in contact with Mr. Nicholas Nanayakkara, the director of Peter Bachmann learning disability center at Chilaw, who expressed his willingness to hand over the said institute to the Rogationists. Luigi then asked Fr. Varghese to study the situation of the center and reached the center in the month of August 2013. After having stayed two months in this center, he submitted a detailed positive report. Fr. Shajan who then replaced Fr. Luigi, asked Fr. General to officially request Bishop of Chilaw. Though initially Bishop Valence sounded interested to welcome us to his diocese, finally he diplomatically expressed his non willingness to welcome us to his diocese due to large number of foreign missionaries working in his diocese. That project then stopped there, however, under the guidance of Fr. Shajan and with the help of Mr. Nicholas Nanayakkara, Fr. Varghese went around to other Bishops of the island. Finally Bishop Cletus Perera, from Ratnapura Diocese responded positively.
Bishop Cletus invites us to his diocese of Ratnapura. Upon the request of Bishop Cletus Fr. Varghese came to Srilanka and Bishop showed him a house attached to Sethmeni (Diocesan Caritas Center) Ehiyalagoda. However, after sometimes Bishop informed his difficulty to give that house for Bishop's council has decided to make it home for retired priests. Bishop then, instead agreed to give another small house to the Rogationist near Bishop's house, adjacent to St. Terasa's Church, at Dehigahapetiaya. Fr. Shajan thus paid a visit to the diocese and discussed the possibilities with Bishop Cletus and saw the proposed house. With the consent of council, he then assigned Frs. Varghese and Deleep to proceed with the proposal. Fr. Shajan accompanied two fathers and reached lanka on November 8, 2014 and stayed in the Bishop's house
Our presence is officially open on December 8, 2014 at Ratnapura Diocese. After one month of stay in the Bishop's House, on December 8, 2014 at 6.30 am, on the solemnity of Immaculate Conception of our Lady, Bishop Cletus solemnly blessed the house and had concelebrated mass at St. Theresa's parish presided by Vicar General, Fr. Damian. Thus, Our Small Carvan in Srilanka have begun its journey with the desire to spread the seeds of Rogate in this fertile soil.
Fr. General (Fr.Angelo) Fr. Matteo and Fr. Shajan (major superior) visit our mission in Lanka. In the month of March 3, 2015 Fr. Angelo Mezzari (Superior General) Fr. Matteo (general Councillor) together with Fr. Shajan Visited our mission home and stayed in the island as part of their Canonical visit and appreciated our small beginning in this blessed land. Fr. Deleep goes back to kerala on his personal difficulties but mission continues. After some months of staying in the new mission land, Fr. Deleep expressed his personal difficulties to continue here. He thus requested Fr. Shajan for some alternatives. Without any other alternatives, Fr. Shajan asked him to come back and thus after 10 months of service he went back to India on September 25, 2015. Fr. Dino joins Fr. Varghese in Srilankan Mission for few months and begins the adoption Apostolate. Fr. Shajan thus assigned newly ordained priest Fr. Dino for few months to be with Fr. Varghese. Thus together they explored the various possibilities of our own specific house and eventual mission. Thus, on April 3, octave of Easter Sunday, we finally began our small apostolate of Adoption at a distance with 9 children. Meanwhile bishop Cletus then agreed to give us a piece of land at Dehigahapetiya for our initial works. Fr. Lixon joins Srilankan Mission. Finally, on May 2, 2016, Fr. Lixon new member of the house arrived in Srilanka with lot of energy and enthusiasm. Together, they began to visit all the houses of the children, building rapport with parish priests, friends and study other eventual concrete established mission in this blessed land. However, after preparing MOU, Bishop suggested us another option to see the possibility of taking over the Orphange that runs in the diocesan property at Hewadiwala. Fr. Shajan after discussing in the council decided to accept the request of Bishop
Fr. Shajan and Fr. Shibu makes Canonical visit and pay visit to the proposed orphanage and agrees to take it over. Bishop then requested Fr. Shajan to make a personal visit before signing a MOU. Fr. Shajan together with Fr. Shiubu, the treasurer of the delegation reached the Island on February 26, 2017 and on the following day visited St. Anthoy's Orphanage. He also made use of this encounter as part of his canonical visit to the mission and discussed in details the matters in the presence of Fr. Damian, Vicar General and Procurator; Fr. Ranjanmal, councillor. Fr. Shajan then agreed to take over the said orphanage by the beginning of January 2018. Frs. Varghese, Lixon and bro.Rinu help in the Diocesan Caritas center to assist the affected people of terrific rain and land slide of may 25, 2017. The disastrous rain and landslide of May 25, 2017 took the lives of more than 200 people and made 1000s homeless and dispersed. Government together with NGO's and religious leaders made immediate intervention and timely aid. Father Varghese took part in many of such activities and all the members of the house extended their active support to the good initiatives of the Diocesan Caritas Center to provide dry ration and immediate help to the displaced families. Mission community also made a detailed report to Fr. General and requested him some contribution to this good cause.